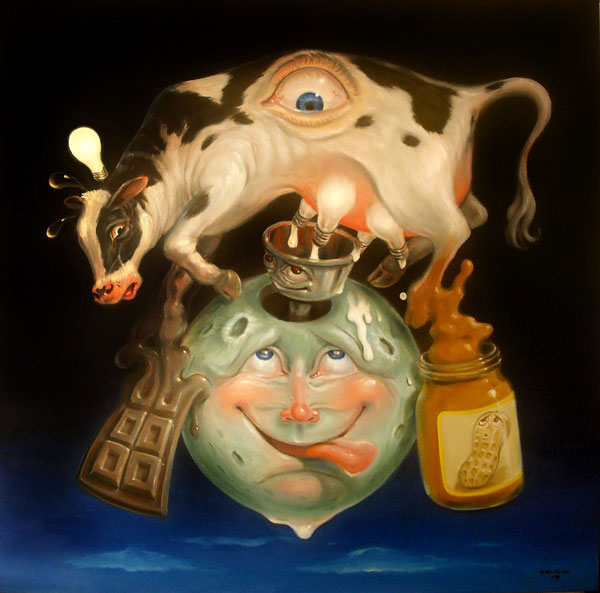 Opening the chocolate door that leads to the room where my ideas come from
Canadian Artist
Stephen Gibb
Canadian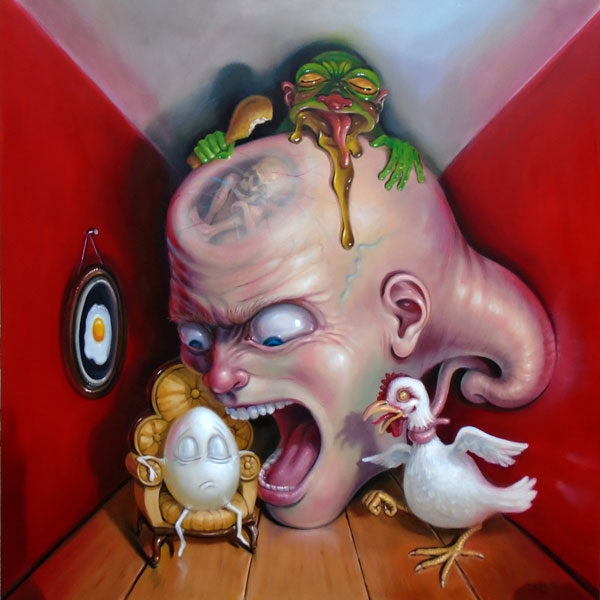 Revenge of the Sycophant Scorned
What I bring to the art world as a Canadian artist is my idiomatic perspective on Surrealism. Dubbed by some as Bubblegum Surrealism or Pop Surrealism, I use the form to convey ideas in a pictorial and symbolic way using our rich visual culture to pull from. Often borrowing from nursery rhymes, Mother Goose and Grimm's Fairy Tales, I take imagery of established conventions of childhood story telling and update them into adult themes.
In the above image I have clearly appropriated the image of Humpty Dumpty. His frail frame and cautious life-under-threat existence is the perfect emblem for the existential human. In this situation he is not perilously teetering on a wall but safely enthroned on a cushioned chair.
The real threat comes from the enraged monstrous head that is either poised to bite or is actively screaming at poor Humpty. The head-monster is strangling a chicken (old school end-of-life method for chickens) while in his skull gestates an embryonic spectre of death which opposes the potential of life-the standard symbolism associated with growth in the womb or within an egg.
To make matters worse, there seems to be an even more repulsive monster consuming a chicken leg at the top. On the wall hangs a portrait of a fried egg which brings the chicken/egg theme full circle. Like some ancestral painting it immortalizes an egg in an aborted stage of development.
My intent isn't to impart a rigid, fixed meaning to the painting but to suggest a direction for the viewer to explore. There are some obvious themes and there are some that are more subtle. The transformative concepts of life, and mortality are readily available to the viewer as well as the personal associations they may draw from the objects themselves. There is also a narrative that presents itself through the title of the piece. The "Sycophant" is embodied by the head-monster and his rage is directed towards his one-time master Humpty Dumpty, royally perched on his throne. One can only guess what caused the revolt, but I suspect the spectre of death had something to do with it all…
See if you can break the code on these paintings…