Category Archives:
pop surrealism art
Canadian surrealist Stephen Gibb's goofy brand of pop surrealism art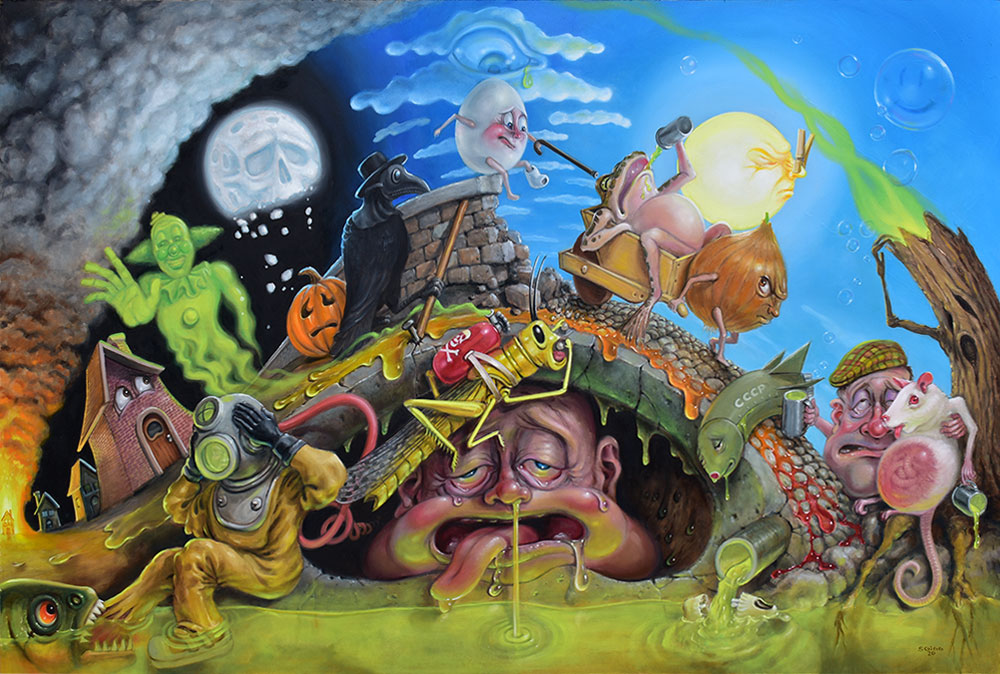 Last Days Of the Plague — Stephen Gibb, 36″ x 24″, oil on panel, 2020
Sometimes the best way to see things clearly is through a distorted lens. When things get misshapen and fragmented they force the brain to make sense of what the eye is seeing. When your brain is in this mode it is a perfect time to view my art because even though it may take a little bit of work you really need to contemplate, meditate and ponder over the images. What you come up with will be entirely your own but hopefully my little nudge will get you thinking about things in a new way.
I do have some prints available here: Saatchi Art and can make others available if there are any in particular you'd like.
I am also represented by St. Germain Gallery in Toronto at: 3358 Yonge St Toronto Ontario M4N 2M7 (416) 481-5121 stgermaingallery@gmail.com
As well, you can check my website and see what I have available. Anything not marked "SOLD" should be available from somewhere. Let me know if there is something you are interested in and I can give you size and price.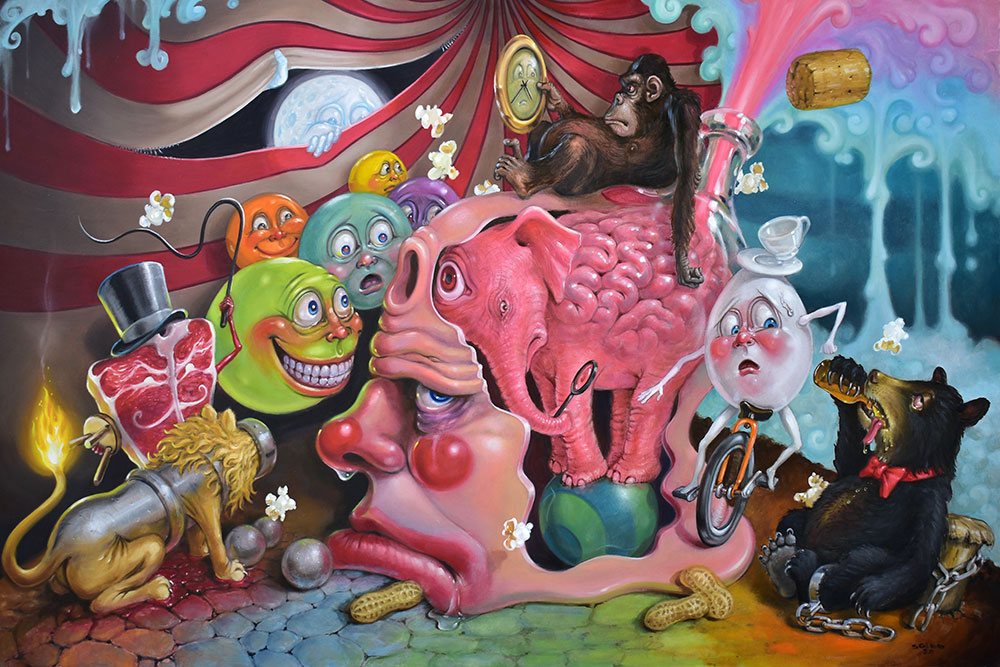 "Circus of Delusion"—Stephen Gibb, 36″ x 24″, 2020
---

Back to Gallery
Canadian Pop Surrealism Return to main gallery Stephen Gibb Artist Statement (Or, at least a feeble attempt to excuse my behaviour to those present with good taste) My artwork weaves an eclectic tapestry of cultural and social influences. At one moment it may make a single-punch-line comment on pop culture while the next it may […]
Also posted in Canadian Pop Surrealism, Canadian Pop Surrealism Art, Canadian Surrealism, Humpty Dumpty, lowbrow pop surrealism, Pop Surrealism Lowbrow, Stephen Gibb
|
Tagged art, bubblegum surrealism, canada, canadian, canadian pop surrealism, donut, dopamine, dorito, hieronymus bosch, humpty dumpty, If I blow your mind what will you do for me?, peanut butter, peanut butter cup, pop surrealism, salvador dali, stephen gibb, stephen gibb art, stephengibb.com, steve gibb, surrealism
|
Comments closed
Gallery of artwork by Stephen Gibb 2023 2022 2021 2020 2019 2018 2017 2016 2015 2014 2013 2012 2011 2010 2009 Visit Redbubble for T-Shirts, Prints, Phone Cases and more. Follow Stephen Gibb on Instagram Home Visit Saatchi Art for prints of selected works. Visit Sideshow Fine Art for prints of selected works. Index of […]