Category Archives:
Pop Surrealism Lowbrow
Pop Surrealism Lowbrow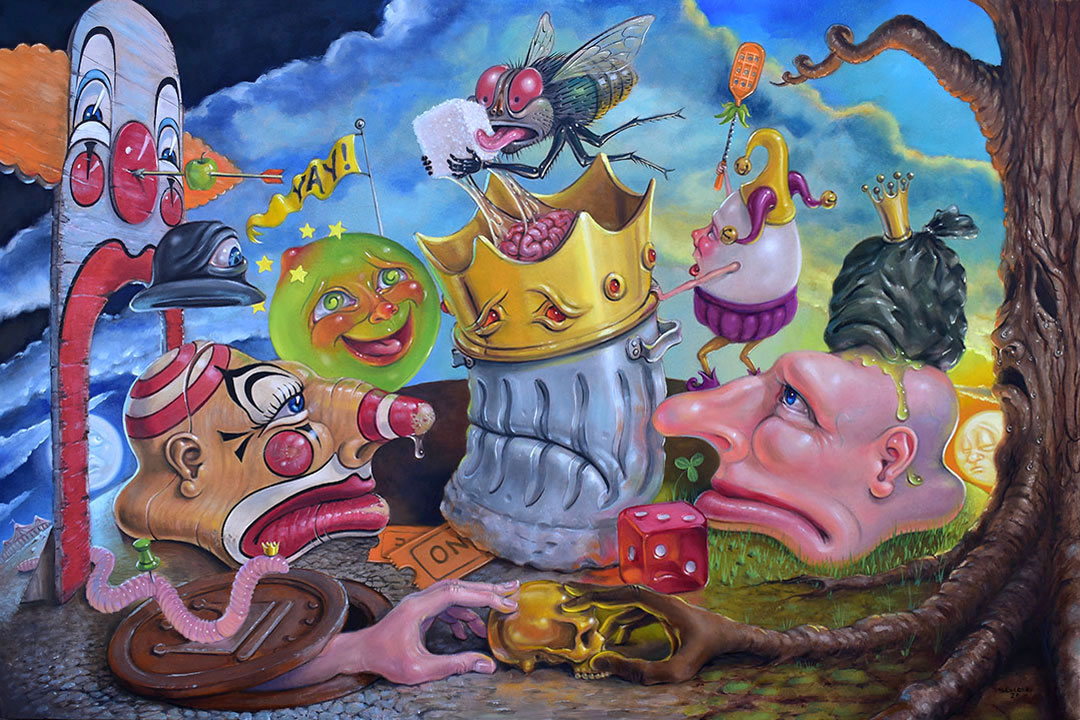 Something About the King of Trash — Stephen Gibb, 36″ x 24″, oil on panel, 2021
I started out with the King of Trash in the middle, I just like the idea and the contrast of a garbage receptacle having a gold crown. Then I had the wooden head on one side and the more realistic head on the other, symbolizing what is artificial and real in life. By extension, the artificial is next to a a fake clown archway leading to a circus or carnival, far in the distance. That is an artificial experience, something put together for profit and entertainment and full of illusion. The green jelly head is the perfect audience, wide-eyed, hypnotized, suckered in by the marketing and hype of the artificial world. The apple pierced by an arrow is a publicity stunt like William Tell, an empty act of showmanship and skill. The floating hat portrays highbrow society…distancing itself from the "common" wood head and the worm is the king of lowbrow society, wriggling in the dirt and heading for the sewer. The discarded tickets are the hollow remnants of the experience, meaningless litter without context.
The hands reaching for the skull could be interpreted many ways. My thought was, the human hand coming from the sewer can only see a golden ball and greedily reaches for riches…not knowing it is reaching for death. The root arm which is an extension of nature reaches for the skull, either willingly grasping for death or protectively keeping it from the human. It could be a symbol of fate, greed, vice and the die with the distressed face is a symbol of chance, positioned between fate and luck (the clover) but since it's not a 4-leaf clover the luck is diminished. The fly steals a sugar cube or a sweet idea from the king and is a symbol of someone profiting or exploiting someone's thoughts. the jester egg attempts to swat it away. A bag of trash oozes goo out onto the "real" head and the whole unnatural, pop surrealism lowbrow scene is witnessed by "nature" the tree.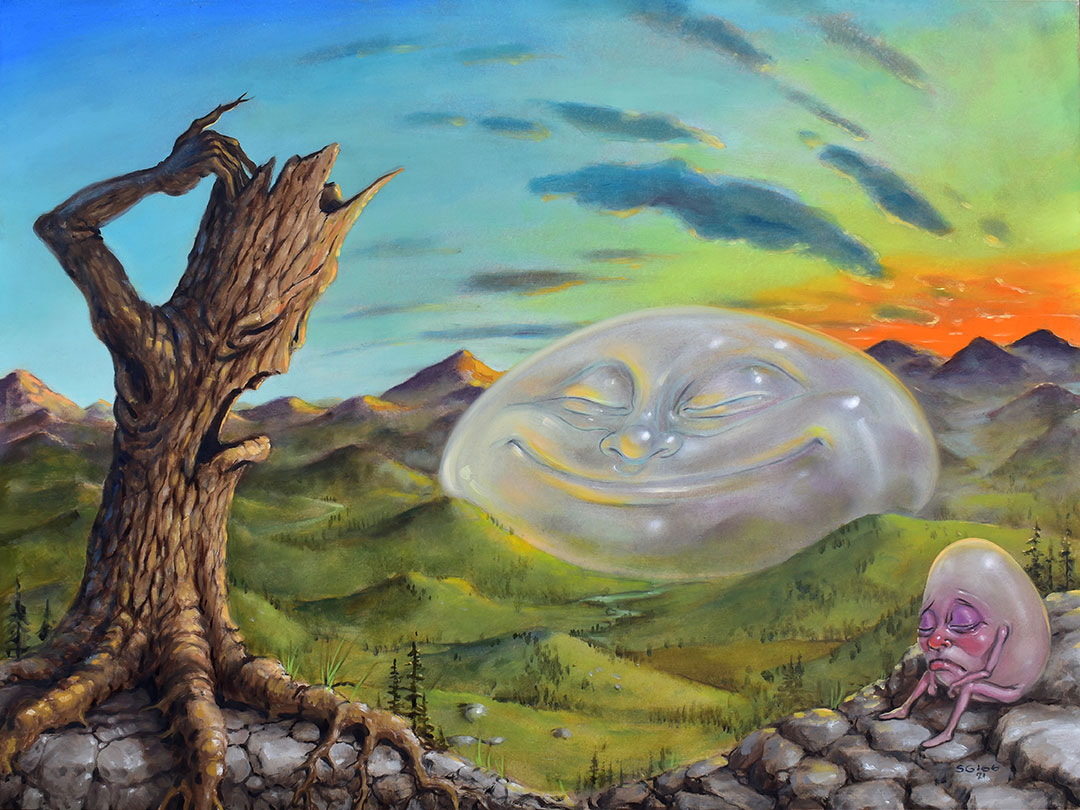 Happy Landscape, Stephen Gibb, 24″ x 18″, oil on panel, 2021
Freak Out in a Man-in-the-Moonage Daydream, Stephen Gibb, 36″ x 36″, oil on panel, 2020

Back to Gallery
---
Art Comp 2023 — Show your Support! "Essence of Hope and Despair" — Stephen Gibb, oil on panel, 2021 This painting is 1 of 100 artworks vying for the ART COMP 2023 prize. I am looking for support from friends and followers. Please consider voting for my painting today! To vote for this work visit […]
Also posted in Art Comp, Artist Stephen Gibb, bubblegum surrealism, Canadian art, Canadian Artist, Canadian Artist Stephen Gibb, Canadian painter Stephen Gibb, Canadian Pop Surrealism, Canadian Surrealism, Contemporary Surrealism, lowbrow pop surrealism, Pop Surrealism, Surrealism
|
Tagged Art Comp, Art Comp 2023, pop surrealism, stephen gibb
|
Comments closed
Canadian Artist Stephen Gibb breaks down the creative process Psychopathology of Wants and Needs – Pop surrealism painting by Canadian Artist Stephen Gibb, 36″ x 24″, oil on panel, 2022 This painting started off a few light years away from where it ended up. The original concept was to do something around the theme of […]
Also posted in Artist Stephen Gibb, bubblegum surrealism, Canadian art, Canadian Artist, Canadian Artist Stephen Gibb, Canadian painter, Canadian painter Stephen Gibb, Canadian Pop Surrealism, Canadian Pop Surrealism Art, Canadian Surrealism, canadian-artist-stephen-gibb-pop-surrealism, contemporary art, contemporary artist, Contemporary Surrealism, lowbrow, lowbrow pop surrealism, Pop Surrealism, pop surrealism art, Stephen Gibb, stephen gibb artist, surreal artist, Surrealism, surrealism painting
|
Tagged Artist Stephen Gibb, lowbrow pop surrealism, pop surrealism
|
Comments closed
Pop Surrealism Painting Fool's Paradise Lost – Pop surrealism painting by Stephen Gibb, 36″ x 24″, oil on panel, 2022 The idea of "loss" and "the Fool" often percolate up in my work. The nature of loss is a pretty straight-forward concept — one that everyone can relate to. The Fool on the other hand […]
Also posted in bubblegum surrealism, Canadian art, Canadian Artist, lowbrow, lowbrow pop surrealism, Pop Surrealism, pop surrealism art, Stephen Gibb, stephen gibb artist, Surrealism, surrealism art
|
Comments closed
What Goes On (In My Mind)…aimless meander The Aimless Meander: The creative process involved in composing Dr. Daydream Prescribes Aggressive Psychotherapy Meditating on the concept of daydreaming conjures all kinds of stereotypes, mostly those perpetuated by pop culture and the associated canon of symbols established by TV, music, movies, and comics. A reclined child staring […]
Also posted in bubblegum surrealism, Canadian art, Canadian Artist, Canadian Artist Stephen Gibb, Canadian painter, Canadian painter Stephen Gibb, Canadian Pop Surrealism, Canadian Pop Surrealism Art, Canadian Surrealism, Pop Surrealism, pop surrealism art, Stephen Gibb, stephen gibb artist, surreal painter, Surrealism, surrealism painting
|
Tagged bubblegum surrealism, canadian art, canadian artist, canadian pop surrealism, lowbrow, lowbrow pop surrealism, pop surrealism, stephen gibb, stephen gibb art, surrealism
|
Comments closed
2022 Paintings 2022 Return to main gallery 2015 paintings 2022 paintings I imagine a world where the visually rich language of fairy tales and nursery rhymes extends into adulthood. The traditional nature of this kind storytelling is best presented with visual aids; simple, straightforward text accompanied by fantastic illustrations. In our culture, this is a […]
2021 Paintings 2021 Return to main gallery 2015 paintings 2021 paintings 1. What does your art mean to you? I feel like that is like asking "What does your face mean to you?" It's like a part of me that I can't escape, that I've accepted, become accustomed to and that identifies me to those […]
Canadian artist Stephen Gibb Instagram Facebook St. Germain Gallery – Toronto Redbubble – Prints, Phone Cases, T-Shirts etc. Prints and art on Saatchi Ello Deviant Art Prints on Sideshow Fine Arts LinkdeIn Twitter Official Website Back to Gallery Hopefully you can find what you are looking for in the above links or by a simple […]
Album art for Hope Tala's Girl Eats Sun
Also posted in Canadian art, Canadian Artist, Canadian painter Stephen Gibb, Canadian Pop Surrealism, Canadian Surrealism, contemporary art, Contemporary Surrealism, crazy art, Hope Tala, Hope Tala Girl Eats Sun, pop surrealism art, Stephen Gibb, stephen gibb artist, surreal, surreal art, surreal painter, Surrealism, surrealism art, surrealism painting
|
Tagged All My Girls Like To Fight, artist Hope Tala Girl Eats Sun, Girl Eats Sun, Hope Tala, Hope Tala album art, Hope Tala album art Girl Eats Sun, Hope Tala Girl Eats Sun
|
Comments closed
St. Germain Gallery and artist Stephen Gibb Anyone in the GTA looking for my art may be pleased to know that it may be closer than you think. I have been working with the St. Germain Gallery at 3358 Yonge St. in Toronto since May 2018 and they have a number of my paintings […]
Also posted in Canadian art, Canadian Artist, Canadian Artist Stephen Gibb, Canadian painter, Canadian painter Stephen Gibb, Canadian painting, Canadian Pop Surrealism, Canadian Pop Surrealism Art, Canadian Surrealism, Canadian Surrealist, Contemporary Surrealism, St. Germain Gallery, Stephen Gibb, surreal art, surreal painter, Surrealism
|
Tagged canadian artist, canadian pop surrealism, canadian surrealism, pop surrealism, St. Germain Gallery, stephen gibb, surrealism
|
Comments closed
How does Pop Surrealism Art deal with Covid-19? The long history of art relating to plague can be traced from medieval times and the likes of Hieronymus Bosch to the irreverent doodling of pop surrealism art After resisting the sort of automatic response that the year 2020 prompted—mainly as a result of the pandemic crisis […]