Category Archives:
Surrealism
Surrealism is like dreaming while you are awake.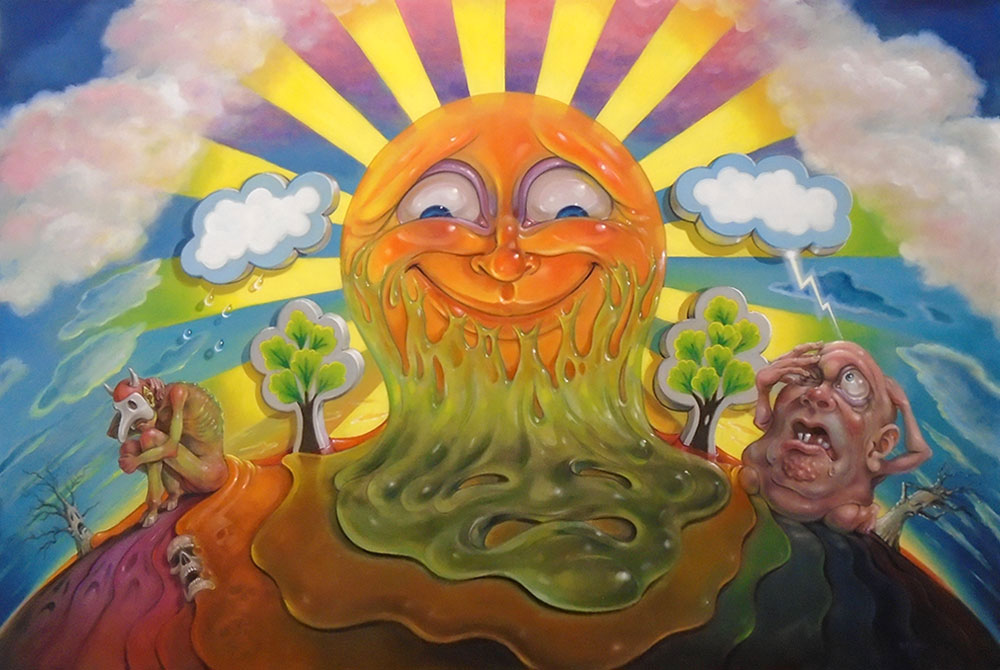 I imagine a world where the visually rich language of fairy tales and nursery rhymes extends into adulthood. The traditional nature of this kind storytelling is best presented with visual aids; simple, straightforward text accompanied by fantastic illustrations. In our culture, this is a conventional part of our collective upbringing and experience. These stories often convey lessons, which are coded in familiar symbolic language, and are likely where we first encountered metaphor, allegory and the roots of surrealism.
We carry these simple symbolic codes into adulthood with concepts like wolf equals bad and pig equals good. The narratives I deliver in my paintings utilize this common resource of visual references and cues; however with more mature and timely messages.
The intertwined relationship between language and image has always guided me in constructing my artwork—using visual puns, symbolic themes and literal translations from words into paintings. Often the compositions and assemblies of characters seem to clash in a surreal incongruence, but on some level, they relate by a verbal association or some idiomatic commonality. My aim is to exploit these visual conventions and present something visually arousing with a dose of surrealism, dynamic colour and compelling content.
The level of payoff that the viewer gets from the paintings is relative to their own personal experience, sophistication and history. There may be universal themes revealed, and there may be idiosyncratic dead ends. There is no correct reading of the images other than what the viewer extracts on their own. Even my opinion and the depth of what they mean to me may change from day to day.

Return to Gallery
---
For more Surreal Art and Pop Surrealism Fun take a little trip to folllow Stephen Gibb on Instagram
---
More Links:
Facebook
Art Comp 2023 — Show your Support! "Essence of Hope and Despair" — Stephen Gibb, oil on panel, 2021 This painting is 1 of 100 artworks vying for the ART COMP 2023 prize. I am looking for support from friends and followers. Please consider voting for my painting today! To vote for this work visit […]
Also posted in Art Comp, Artist Stephen Gibb, bubblegum surrealism, Canadian art, Canadian Artist, Canadian Artist Stephen Gibb, Canadian painter Stephen Gibb, Canadian Pop Surrealism, Canadian Surrealism, Contemporary Surrealism, lowbrow pop surrealism, Pop Surrealism, Pop Surrealism Lowbrow
|
Tagged Art Comp, Art Comp 2023, pop surrealism, stephen gibb
|
Comments closed
2023 Paintings 2023 Return to main gallery 2023 paintings Visit Stephen Gibb on Instagram Redbubble: T-Shirts, phone cases and other merch Index of paintings by Stephen Gibb
Canadian Artist Stephen Gibb breaks down the creative process Psychopathology of Wants and Needs – Pop surrealism painting by Canadian Artist Stephen Gibb, 36″ x 24″, oil on panel, 2022 This painting started off a few light years away from where it ended up. The original concept was to do something around the theme of […]
Also posted in Artist Stephen Gibb, bubblegum surrealism, Canadian art, Canadian Artist, Canadian Artist Stephen Gibb, Canadian painter, Canadian painter Stephen Gibb, Canadian Pop Surrealism, Canadian Pop Surrealism Art, Canadian Surrealism, canadian-artist-stephen-gibb-pop-surrealism, contemporary art, contemporary artist, Contemporary Surrealism, lowbrow, lowbrow pop surrealism, Pop Surrealism, pop surrealism art, Pop Surrealism Lowbrow, Stephen Gibb, stephen gibb artist, surreal artist, surrealism painting
|
Tagged Artist Stephen Gibb, lowbrow pop surrealism, pop surrealism
|
Comments closed
Pop Surrealism Painting Fool's Paradise Lost – Pop surrealism painting by Stephen Gibb, 36″ x 24″, oil on panel, 2022 The idea of "loss" and "the Fool" often percolate up in my work. The nature of loss is a pretty straight-forward concept — one that everyone can relate to. The Fool on the other hand […]
Also posted in bubblegum surrealism, Canadian art, Canadian Artist, lowbrow, lowbrow pop surrealism, Pop Surrealism, pop surrealism art, Pop Surrealism Lowbrow, Stephen Gibb, stephen gibb artist, surrealism art
|
Comments closed
What Goes On (In My Mind)…aimless meander The Aimless Meander: The creative process involved in composing Dr. Daydream Prescribes Aggressive Psychotherapy Meditating on the concept of daydreaming conjures all kinds of stereotypes, mostly those perpetuated by pop culture and the associated canon of symbols established by TV, music, movies, and comics. A reclined child staring […]
Also posted in bubblegum surrealism, Canadian art, Canadian Artist, Canadian Artist Stephen Gibb, Canadian painter, Canadian painter Stephen Gibb, Canadian Pop Surrealism, Canadian Pop Surrealism Art, Canadian Surrealism, Pop Surrealism, pop surrealism art, Pop Surrealism Lowbrow, Stephen Gibb, stephen gibb artist, surreal painter, surrealism painting
|
Tagged bubblegum surrealism, canadian art, canadian artist, canadian pop surrealism, lowbrow, lowbrow pop surrealism, pop surrealism, stephen gibb, stephen gibb art, surrealism
|
Comments closed
2022 Paintings 2022 Return to main gallery 2015 paintings 2022 paintings I imagine a world where the visually rich language of fairy tales and nursery rhymes extends into adulthood. The traditional nature of this kind storytelling is best presented with visual aids; simple, straightforward text accompanied by fantastic illustrations. In our culture, this is a […]
2021 Paintings 2021 Return to main gallery 2015 paintings 2021 paintings 1. What does your art mean to you? I feel like that is like asking "What does your face mean to you?" It's like a part of me that I can't escape, that I've accepted, become accustomed to and that identifies me to those […]
Album art for Hope Tala's Girl Eats Sun
Also posted in Canadian art, Canadian Artist, Canadian painter Stephen Gibb, Canadian Pop Surrealism, Canadian Surrealism, contemporary art, Contemporary Surrealism, crazy art, Hope Tala, Hope Tala Girl Eats Sun, pop surrealism art, Pop Surrealism Lowbrow, Stephen Gibb, stephen gibb artist, surreal, surreal art, surreal painter, surrealism art, surrealism painting
|
Tagged All My Girls Like To Fight, artist Hope Tala Girl Eats Sun, Girl Eats Sun, Hope Tala, Hope Tala album art, Hope Tala album art Girl Eats Sun, Hope Tala Girl Eats Sun
|
Comments closed
St. Germain Gallery and artist Stephen Gibb Anyone in the GTA looking for my art may be pleased to know that it may be closer than you think. I have been working with the St. Germain Gallery at 3358 Yonge St. in Toronto since May 2018 and they have a number of my paintings […]
Also posted in Canadian art, Canadian Artist, Canadian Artist Stephen Gibb, Canadian painter, Canadian painter Stephen Gibb, Canadian painting, Canadian Pop Surrealism, Canadian Pop Surrealism Art, Canadian Surrealism, Canadian Surrealist, Contemporary Surrealism, Pop Surrealism Lowbrow, St. Germain Gallery, Stephen Gibb, surreal art, surreal painter
|
Tagged canadian artist, canadian pop surrealism, canadian surrealism, pop surrealism, St. Germain Gallery, stephen gibb, surrealism
|
Comments closed
How does Pop Surrealism Art deal with Covid-19? The long history of art relating to plague can be traced from medieval times and the likes of Hieronymus Bosch to the irreverent doodling of pop surrealism art After resisting the sort of automatic response that the year 2020 prompted—mainly as a result of the pandemic crisis […]