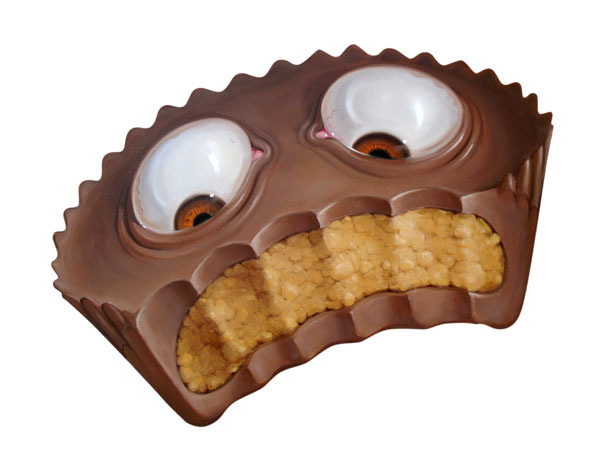 Surreal PBC Cup
Stephen Gibb, 2'x2′, oil on panel, 2016
Tribute to two of my favourite foods – peanut butter and chocolate which come together in perfect harmony in the form of a surreal PB Cup.
Straight forward oil painting that falls inline with my recurring consumerism theme which often pairs the idea of things "consumed" or eaten with anthropomorphized products of pop culture. This painting is also consistent with my concept of Bubblegum Surrealism which utilizes a surreal handling of almost cartoonish images.
See more paintings from 2016
Surreal PB Cup.
Artist Stephen Gibb – Canadian Pop Surrealism Artist.
The connection between the concept of consumerism and the objects and products consumed(literally) has been a recurring theme in my painting for years. I also like to anthropomorphize the products to give them an emotional dimension and character which in pop surrealism can then be integrated in a narrative including these characters. Surrealism has always delved into the realm where reality blurs into the dream world and making characters of inanimate objects also amps up the weirdness.
see stephengibb.com for more surreal PB cup. Surreal PB Cup, PB cup, reese cup, Canadian pop surrealism.