Category Archives:
Canadian Artist Stephen Gibb
Canadian Artist Stephen Gibb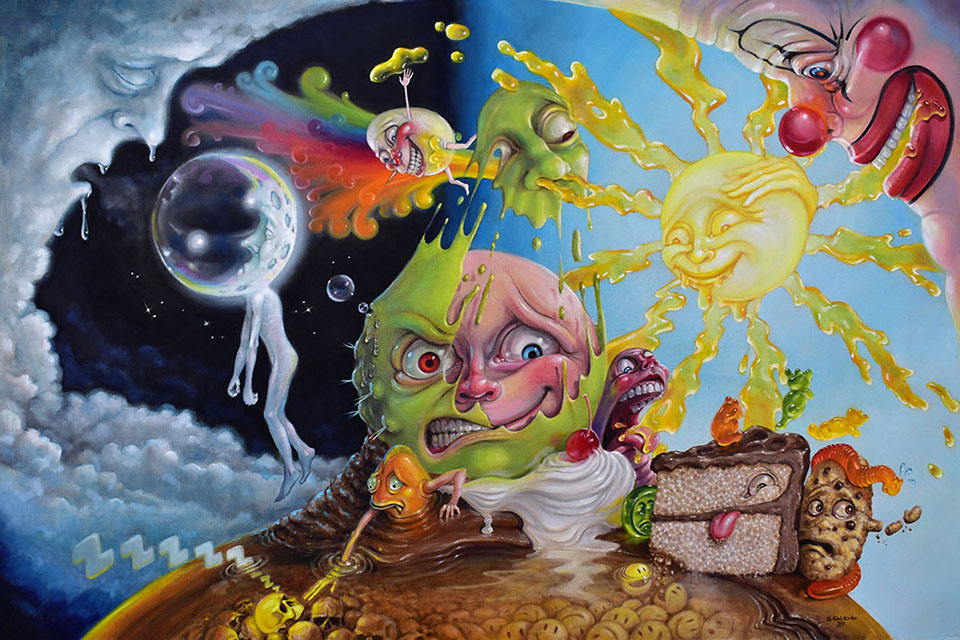 Nighttime Quells the Frisson of Breathing Sunlight — Stephen Gibb, 36″ x 24″, oil on panel, 2020
Consider the peak of summer and the warm glowing sun. Close your eyes and feel the warmth on your face and the bright glow of your eyelids. Take a deep breath and hold in the feeling of summer like you are breathing in sunshine. This is the idea that inspired this painting and the sunlight reaching out like some incandescent juice, radiating in all directions. For fun I balanced the bright sunlight with a darker, sleepy nighttime on the left. I think my favourite feature is the trepidatious fish man, reaching into the water for the glowing skull. To me he symbolizes a certain kind of curiosity within us, that is willing to take a risk in order to snatch a prize.

Back to Gallery
Art Comp 2023 — Show your Support! "Essence of Hope and Despair" — Stephen Gibb, oil on panel, 2021 This painting is 1 of 100 artworks vying for the ART COMP 2023 prize. I am looking for support from friends and followers. Please consider voting for my painting today! To vote for this work visit […]
Also posted in Art Comp, Artist Stephen Gibb, bubblegum surrealism, Canadian art, Canadian Artist, Canadian painter Stephen Gibb, Canadian Pop Surrealism, Canadian Surrealism, Contemporary Surrealism, lowbrow pop surrealism, Pop Surrealism, Pop Surrealism Lowbrow, Surrealism
|
Tagged Art Comp, Art Comp 2023, pop surrealism, stephen gibb
|
Comments closed
2023 Paintings 2023 Return to main gallery 2023 paintings Visit Stephen Gibb on Instagram Redbubble: T-Shirts, phone cases and other merch Index of paintings by Stephen Gibb
Canadian Artist Stephen Gibb breaks down the creative process Psychopathology of Wants and Needs – Pop surrealism painting by Canadian Artist Stephen Gibb, 36″ x 24″, oil on panel, 2022 This painting started off a few light years away from where it ended up. The original concept was to do something around the theme of […]
Also posted in Artist Stephen Gibb, bubblegum surrealism, Canadian art, Canadian Artist, Canadian painter, Canadian painter Stephen Gibb, Canadian Pop Surrealism, Canadian Pop Surrealism Art, Canadian Surrealism, canadian-artist-stephen-gibb-pop-surrealism, contemporary art, contemporary artist, Contemporary Surrealism, lowbrow, lowbrow pop surrealism, Pop Surrealism, pop surrealism art, Pop Surrealism Lowbrow, Stephen Gibb, stephen gibb artist, surreal artist, Surrealism, surrealism painting
|
Tagged Artist Stephen Gibb, lowbrow pop surrealism, pop surrealism
|
Comments closed
What Goes On (In My Mind)…aimless meander The Aimless Meander: The creative process involved in composing Dr. Daydream Prescribes Aggressive Psychotherapy Meditating on the concept of daydreaming conjures all kinds of stereotypes, mostly those perpetuated by pop culture and the associated canon of symbols established by TV, music, movies, and comics. A reclined child staring […]
Also posted in bubblegum surrealism, Canadian art, Canadian Artist, Canadian painter, Canadian painter Stephen Gibb, Canadian Pop Surrealism, Canadian Pop Surrealism Art, Canadian Surrealism, Pop Surrealism, pop surrealism art, Pop Surrealism Lowbrow, Stephen Gibb, stephen gibb artist, surreal painter, Surrealism, surrealism painting
|
Tagged bubblegum surrealism, canadian art, canadian artist, canadian pop surrealism, lowbrow, lowbrow pop surrealism, pop surrealism, stephen gibb, stephen gibb art, surrealism
|
Comments closed
2022 Paintings 2022 Return to main gallery 2015 paintings 2022 paintings I imagine a world where the visually rich language of fairy tales and nursery rhymes extends into adulthood. The traditional nature of this kind storytelling is best presented with visual aids; simple, straightforward text accompanied by fantastic illustrations. In our culture, this is a […]
2021 Paintings 2021 Return to main gallery 2015 paintings 2021 paintings 1. What does your art mean to you? I feel like that is like asking "What does your face mean to you?" It's like a part of me that I can't escape, that I've accepted, become accustomed to and that identifies me to those […]
St. Germain Gallery and artist Stephen Gibb Anyone in the GTA looking for my art may be pleased to know that it may be closer than you think. I have been working with the St. Germain Gallery at 3358 Yonge St. in Toronto since May 2018 and they have a number of my paintings […]
Also posted in Canadian art, Canadian Artist, Canadian painter, Canadian painter Stephen Gibb, Canadian painting, Canadian Pop Surrealism, Canadian Pop Surrealism Art, Canadian Surrealism, Canadian Surrealist, Contemporary Surrealism, Pop Surrealism Lowbrow, St. Germain Gallery, Stephen Gibb, surreal art, surreal painter, Surrealism
|
Tagged canadian artist, canadian pop surrealism, canadian surrealism, pop surrealism, St. Germain Gallery, stephen gibb, surrealism
|
Comments closed
Sometimes art isn't pretty....Canadian artist Stephen Gibb reveals the secret behind one of his paintings
Also posted in Canadian art, Canadian Artist, Canadian painter, Canadian Pop Surrealism, Canadian Surrealism, Stephen Gibb, surreal artist, Surrealism
|
Tagged canada, canadian, canadian art, canadian artist, canadian pop art, canadian pop surrealism, canadian surrealism, painter, pop surrealism, pop surrealism canada, stephen gibb, steve gibb, surrealism
|
Comments closed
Bubblegum Surrealism by Canadian Pop Surrealist Painter Stephen Gibb Please Share to Facebook 2023 2022 2021 2020 2019 2018 2017 2016 2015 2014 2013 2012 2011 2010 Bubblegum surrealism of Stephen Gibb Return to main page Redbubble – Prints, Phone Cases, T-Shirts etc. Visit Sideshow Fine Art for prints of selected works. Index of paintings […]
Gallery of artwork by Stephen Gibb 2023 2022 2021 2020 2019 2018 2017 2016 2015 2014 2013 2012 2011 2010 2009 Visit Redbubble for T-Shirts, Prints, Phone Cases and more. Follow Stephen Gibb on Instagram Home Visit Saatchi Art for prints of selected works. Visit Sideshow Fine Art for prints of selected works. Index of […]