Category Archives:
Canadian art
Canadian Art by Stephen Gibb
For more please visit the website: stephengibb.com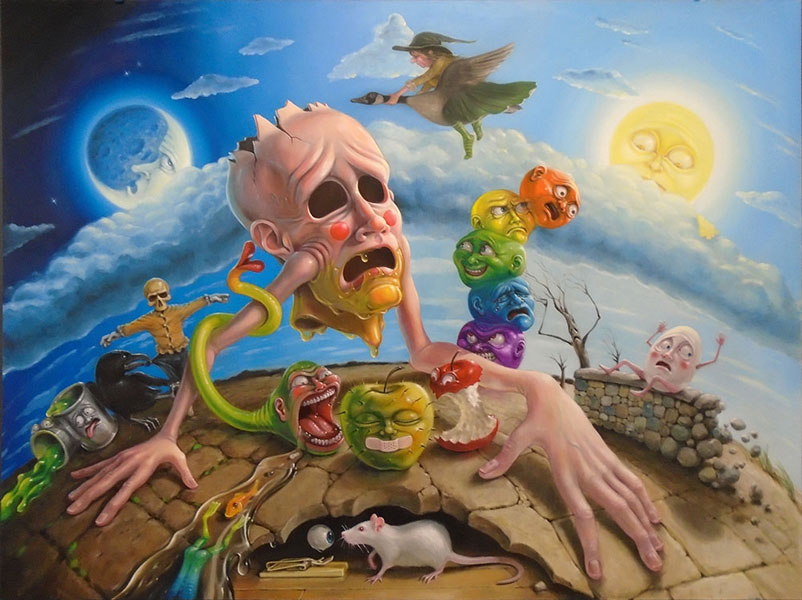 Canadian art is more than the Group of Seven. It is more than our glorious indigenous art. It is more than the stereotypical landscape and wildlife painting that dominates reproductions on calendars and postcards and garner top rankings on Google searches.
The Canadian art identity is subtle. To an Asian it would likely be identified as "western" and to a European it would likely be construed as American. It would probably take a fellow Canadian to extract the Canadianness from artwork that doesn't rely on typical geographical cues (wildlife, wilderness) and symbols (hockey, poutine etc.).
There is a state of mind represented that could loosely be identified as "not American". It is a perspective of detachment and distance that allows Canadian art to pry up the corners of North American culture to expose the hidden elements that jiggle in the shadows of the periphery. Outside the glow of the spotlight, in the American blind spots, lurks the forgotten, the disenfranchised, the marginalized; the alienated…that when brought into sharp focus tells another story altogether – a Canadian story.
This is the playground in which many Canadian artists build their sandcastles. The underbelly of Pop culture super-saturation, the dark corners out of the line of fire of the relentless mass-marketing assault.
It just happens that my surreal sandbox is full of childhood remnants and symbols drenched in literal word and image play.
---
When I discovered Hieronymus Bosch at age 11 I knew I was going to be an artist. Up until that point my idea of an artist was Norman Rockwell, so imagine my surprise.
The artwork that made an early impression on my tiny 1960s mind was Rat Fink and the gruesome "Hot Rod" characters popularized by Ed "Big Daddy" Roth. There was something both revolting and appealing about his creations that I can't quite resolve in my mind.
I also had this inexplicable sort of fascination/repulsion with commercial icons like the lovable Aunt Jemima, the quirky Quaker Oats guy and the unsettling nursery rhyme illustrations of Humpty Dumpty, man-in-the-moon faces and any highly-rendered cartoon character displaying an extreme emotion.
Everyone is quick to lump me with surrealism and specifically with Salvador Dali but I think I have more to do with MAD magazine than with Sigmund Freud.
Pop Surrealism and Lowbrow Pop Surrealism has a broad range of influences, a reverence for art history, an unsettling presence and a wicked sense of humour. One thing that unites the pop surrealist community is their comfortable and insatiable relationship with weirdness. If describing in words what is and what isn't pop surrealism, one only […]
Also posted in Canadian Artist, Canadian painter, Canadian Surrealism, contemporary art, contemporary artist, crazy art, lowbrow, lowbrow pop surrealism, Pop Art, Pop Surrealism, stephen gibb artist, surreal, Surrealism
|
Tagged bubblegum surrealism, canadian pop surrealism, pop surrealism, stephen gibb
|
Comments closed
It's all crazy art, isn't it? What is "crazy art" aside from a naïve label, probably bestowed by a sincere art outsider? It is forgivable when "crazy art" is used as the layman's password into the realm of exploration¬—like initiating a web search. Hopefully this kind of low target search may lead them to a […]
Also posted in Canadian Artist, Canadian painter, Canadian Surrealism, crazy art, metarealism, Pop Surrealism, stephen gibb artist, Surrealism
|
Tagged canadian art, canadian artist, canadian pop surrealism, canadian surrealism, painter, pop surrealism, stephen gibb, surrealism
|
Comments closed
Contemporary art has been hit hard by our inability to focus, meditate or even take five minutes alone with a painting. With my painting Death of Contemplation, the title comes from my lament for a time before incessant distraction. When you could fall into a deep, thoughtful meditation and slowly mull over an idea until […]
Also posted in Canadian Artist, Canadian painter, Canadian Surrealism, contemporary art, contemporary artist, Pop Art, Pop Surrealism, stephen gibb artist, Surrealism
|
Tagged Canadian contemporary art, canadian pop surrealism, contemporary, contemporary art, pop surrealism, stephen gibb
|
Comments closed
Contemporary artist is lost in the wilderness… Contemporary artist Stephen Gibb has offered a mysterious painting for an uncertain future society. Entitled "Pictorial Puzzles for a Post-human Palaeontologist" the painter playfully acknowledges that there is "a man behind the curtain" and that the viewer isn't about to fall down the rabbit hole, but is well […]
2019 Paintings 2019 Return to main gallery 2015 paintings Stephen Gibb – Artist Statement (Or, at least a feeble attempt to excuse my behaviour to those present with good taste) My artwork weaves an eclectic tapestry of cultural and social influences. At one moment it may make a single-punch-line comment on pop culture while the […]
Explore the art of Canadian painter Stephen Gibb and unravel the inspiration and meaning behind "Caught"
Cover art for Trippie Redd's Life's A Trip album, August, 2018. Life's A Trip The initial design, grew and blossomed from this point of beginning (below)…eventually leading to the final artwork above. Combining symbolic characters in a colourful explosion of activity Stephen Gibb followed Trippie's suggestions of making the cover something so visually dynamic that […]
The moon face is an extension of nursery-rhyme imagery, often portrayed with cartoon-like expressions and occasionally with a more disturbing, unsettling face.
2018 Paintings 2018 Return to main gallery 2015 paintings Stephen Gibb – Artist Statement (Or, at least a feeble attempt to excuse my behaviour to those present with good taste) My artwork weaves an eclectic tapestry of cultural and social influences. At one moment it may make a single-punch-line comment on pop culture while the […]
Laughing all the way to the grave