Category Archives:
Canadian art
Canadian Art by Stephen Gibb
For more please visit the website: stephengibb.com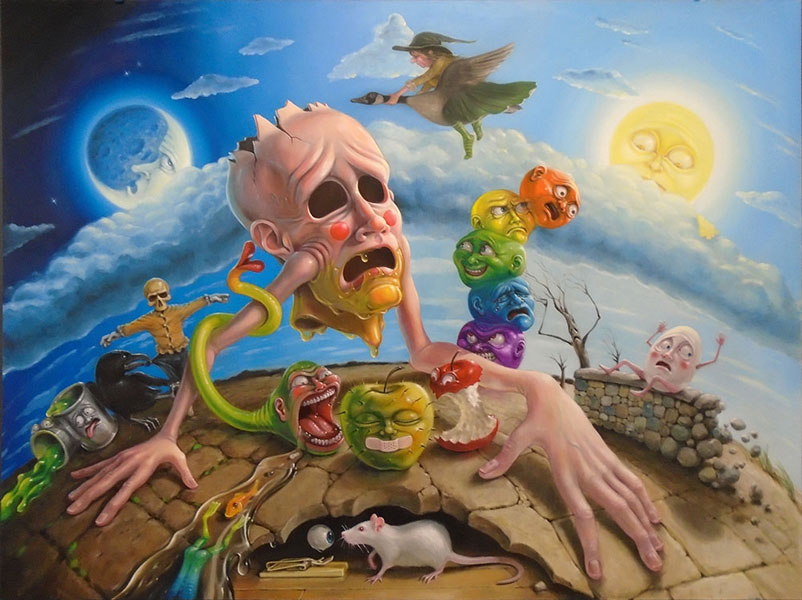 Canadian art is more than the Group of Seven. It is more than our glorious indigenous art. It is more than the stereotypical landscape and wildlife painting that dominates reproductions on calendars and postcards and garner top rankings on Google searches.
The Canadian art identity is subtle. To an Asian it would likely be identified as "western" and to a European it would likely be construed as American. It would probably take a fellow Canadian to extract the Canadianness from artwork that doesn't rely on typical geographical cues (wildlife, wilderness) and symbols (hockey, poutine etc.).
There is a state of mind represented that could loosely be identified as "not American". It is a perspective of detachment and distance that allows Canadian art to pry up the corners of North American culture to expose the hidden elements that jiggle in the shadows of the periphery. Outside the glow of the spotlight, in the American blind spots, lurks the forgotten, the disenfranchised, the marginalized; the alienated…that when brought into sharp focus tells another story altogether – a Canadian story.
This is the playground in which many Canadian artists build their sandcastles. The underbelly of Pop culture super-saturation, the dark corners out of the line of fire of the relentless mass-marketing assault.
It just happens that my surreal sandbox is full of childhood remnants and symbols drenched in literal word and image play.
---
When I discovered Hieronymus Bosch at age 11 I knew I was going to be an artist. Up until that point my idea of an artist was Norman Rockwell, so imagine my surprise.
The artwork that made an early impression on my tiny 1960s mind was Rat Fink and the gruesome "Hot Rod" characters popularized by Ed "Big Daddy" Roth. There was something both revolting and appealing about his creations that I can't quite resolve in my mind.
I also had this inexplicable sort of fascination/repulsion with commercial icons like the lovable Aunt Jemima, the quirky Quaker Oats guy and the unsettling nursery rhyme illustrations of Humpty Dumpty, man-in-the-moon faces and any highly-rendered cartoon character displaying an extreme emotion.
Everyone is quick to lump me with surrealism and specifically with Salvador Dali but I think I have more to do with MAD magazine than with Sigmund Freud.
---

Back to Gallery
Art Comp 2023 — Show your Support! "Essence of Hope and Despair" — Stephen Gibb, oil on panel, 2021 This painting is 1 of 100 artworks vying for the ART COMP 2023 prize. I am looking for support from friends and followers. Please consider voting for my painting today! To vote for this work visit […]
Also posted in Art Comp, Artist Stephen Gibb, bubblegum surrealism, Canadian Artist, Canadian Artist Stephen Gibb, Canadian painter Stephen Gibb, Canadian Pop Surrealism, Canadian Surrealism, Contemporary Surrealism, lowbrow pop surrealism, Pop Surrealism, Pop Surrealism Lowbrow, Surrealism
|
Tagged Art Comp, Art Comp 2023, pop surrealism, stephen gibb
|
Comments closed
Canadian Artist Stephen Gibb breaks down the creative process Psychopathology of Wants and Needs – Pop surrealism painting by Canadian Artist Stephen Gibb, 36″ x 24″, oil on panel, 2022 This painting started off a few light years away from where it ended up. The original concept was to do something around the theme of […]
Also posted in Artist Stephen Gibb, bubblegum surrealism, Canadian Artist, Canadian Artist Stephen Gibb, Canadian painter, Canadian painter Stephen Gibb, Canadian Pop Surrealism, Canadian Pop Surrealism Art, Canadian Surrealism, canadian-artist-stephen-gibb-pop-surrealism, contemporary art, contemporary artist, Contemporary Surrealism, lowbrow, lowbrow pop surrealism, Pop Surrealism, pop surrealism art, Pop Surrealism Lowbrow, Stephen Gibb, stephen gibb artist, surreal artist, Surrealism, surrealism painting
|
Tagged Artist Stephen Gibb, lowbrow pop surrealism, pop surrealism
|
Comments closed
Pop Surrealism Painting Fool's Paradise Lost – Pop surrealism painting by Stephen Gibb, 36″ x 24″, oil on panel, 2022 The idea of "loss" and "the Fool" often percolate up in my work. The nature of loss is a pretty straight-forward concept — one that everyone can relate to. The Fool on the other hand […]
Also posted in bubblegum surrealism, Canadian Artist, lowbrow, lowbrow pop surrealism, Pop Surrealism, pop surrealism art, Pop Surrealism Lowbrow, Stephen Gibb, stephen gibb artist, Surrealism, surrealism art
|
Comments closed
What Goes On (In My Mind)…aimless meander The Aimless Meander: The creative process involved in composing Dr. Daydream Prescribes Aggressive Psychotherapy Meditating on the concept of daydreaming conjures all kinds of stereotypes, mostly those perpetuated by pop culture and the associated canon of symbols established by TV, music, movies, and comics. A reclined child staring […]
Also posted in bubblegum surrealism, Canadian Artist, Canadian Artist Stephen Gibb, Canadian painter, Canadian painter Stephen Gibb, Canadian Pop Surrealism, Canadian Pop Surrealism Art, Canadian Surrealism, Pop Surrealism, pop surrealism art, Pop Surrealism Lowbrow, Stephen Gibb, stephen gibb artist, surreal painter, Surrealism, surrealism painting
|
Tagged bubblegum surrealism, canadian art, canadian artist, canadian pop surrealism, lowbrow, lowbrow pop surrealism, pop surrealism, stephen gibb, stephen gibb art, surrealism
|
Comments closed
2022 Paintings 2022 Return to main gallery 2015 paintings 2022 paintings I imagine a world where the visually rich language of fairy tales and nursery rhymes extends into adulthood. The traditional nature of this kind storytelling is best presented with visual aids; simple, straightforward text accompanied by fantastic illustrations. In our culture, this is a […]
2021 Paintings 2021 Return to main gallery 2015 paintings 2021 paintings 1. What does your art mean to you? I feel like that is like asking "What does your face mean to you?" It's like a part of me that I can't escape, that I've accepted, become accustomed to and that identifies me to those […]
Canadian artist Stephen Gibb Instagram Facebook St. Germain Gallery – Toronto Redbubble – Prints, Phone Cases, T-Shirts etc. Prints and art on Saatchi Ello Deviant Art Prints on Sideshow Fine Arts LinkdeIn Twitter Official Website Back to Gallery Hopefully you can find what you are looking for in the above links or by a simple […]
Album art for Hope Tala's Girl Eats Sun
Also posted in Canadian Artist, Canadian painter Stephen Gibb, Canadian Pop Surrealism, Canadian Surrealism, contemporary art, Contemporary Surrealism, crazy art, Hope Tala, Hope Tala Girl Eats Sun, pop surrealism art, Pop Surrealism Lowbrow, Stephen Gibb, stephen gibb artist, surreal, surreal art, surreal painter, Surrealism, surrealism art, surrealism painting
|
Tagged All My Girls Like To Fight, artist Hope Tala Girl Eats Sun, Girl Eats Sun, Hope Tala, Hope Tala album art, Hope Tala album art Girl Eats Sun, Hope Tala Girl Eats Sun
|
Comments closed
St. Germain Gallery and artist Stephen Gibb Anyone in the GTA looking for my art may be pleased to know that it may be closer than you think. I have been working with the St. Germain Gallery at 3358 Yonge St. in Toronto since May 2018 and they have a number of my paintings […]
Also posted in Canadian Artist, Canadian Artist Stephen Gibb, Canadian painter, Canadian painter Stephen Gibb, Canadian painting, Canadian Pop Surrealism, Canadian Pop Surrealism Art, Canadian Surrealism, Canadian Surrealist, Contemporary Surrealism, Pop Surrealism Lowbrow, St. Germain Gallery, Stephen Gibb, surreal art, surreal painter, Surrealism
|
Tagged canadian artist, canadian pop surrealism, canadian surrealism, pop surrealism, St. Germain Gallery, stephen gibb, surrealism
|
Comments closed
Contemporary Surrealism in today's world Maybe it's not even fair to call what I do Contemporary Surrealism or even Surreal Art. The presentation may make the viewer recall surrealism from their scant art history lessons in high school but the surreal art of scholarly examination relates to something from long ago and far away—produced under […]
Also posted in Canadian Artist, Canadian painter, Canadian painter Stephen Gibb, Canadian Pop Surrealism, Canadian Pop Surrealism Art, Canadian Surrealism, Contemporary Surrealism, Pop Surrealism Lowbrow, Stephen Gibb, Surrealism
|
Tagged contemporary surrealism, exploding egg, lava
|
Comments closed