Surrealism has many faces with Canadian artist Stephen Gibb
"Happy!" — Stephen Gibb, 36″ x 24″, oil on panel, 2020

The idea behind this painting was to portray sheer joy and happiness sloughing off the evil and darkness of the world like a snake sheds its skin. However, I wanted to depict the happiness in an artificial surrounding (fake trees, fake clouds, fake graphic sunburst) to suggest that sometimes happiness is an illusion. Contrasting the cartoon aspects with more realistic depictions of trees and clouds (at the edges) was my way of acknowledging the very real presence of darkness and evil in people's lives. Part of the challenge of the painting was to attempt to have the happy face in full illumination and push everything else into a more subdued shadow.
---
HAPPY!
A painting also known as Surrealism of Despair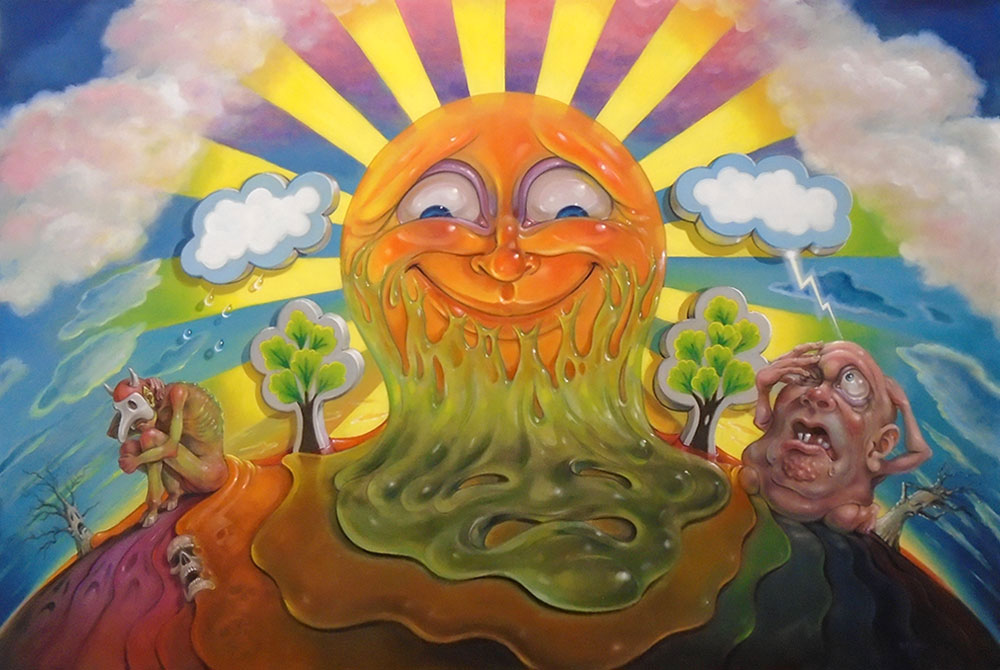 This painting examines the fragile interface between happiness and despair. Taking a symbolic perspective of happiness and sloughing off the skin of sadness and evil the landscape reflects the mood of the central image. Through the lens of surrealism, the result is a contrast between light and dark, both physically and psychologically.
---

Back to Gallery
---
For more Surreal Art and Pop Surrealism Fun take a little trip to folllow Stephen Gibb on Instagram
---
Biography
Stephen Gibb is a Canadian artist and works in the small town of Amherstburg, in southern Ontario, and maintains a second studio in Windsor. He has a B.F.A. in visual arts from the University of Windsor and is currently represented by the St. Germain gallery in Toronto. His brand of Canadian Pop Surrealism is collected around the globe and has gained widening interest since working on the album art for hip hop artist Trippie Redd.
More Links:
Stephen Gibb on Facebook
Stephen Gibb: Official Website
---