Category Archives:
Canadian Pop Surrealism
[caption id="attachment_1800" align="aligncenter" width="1000"]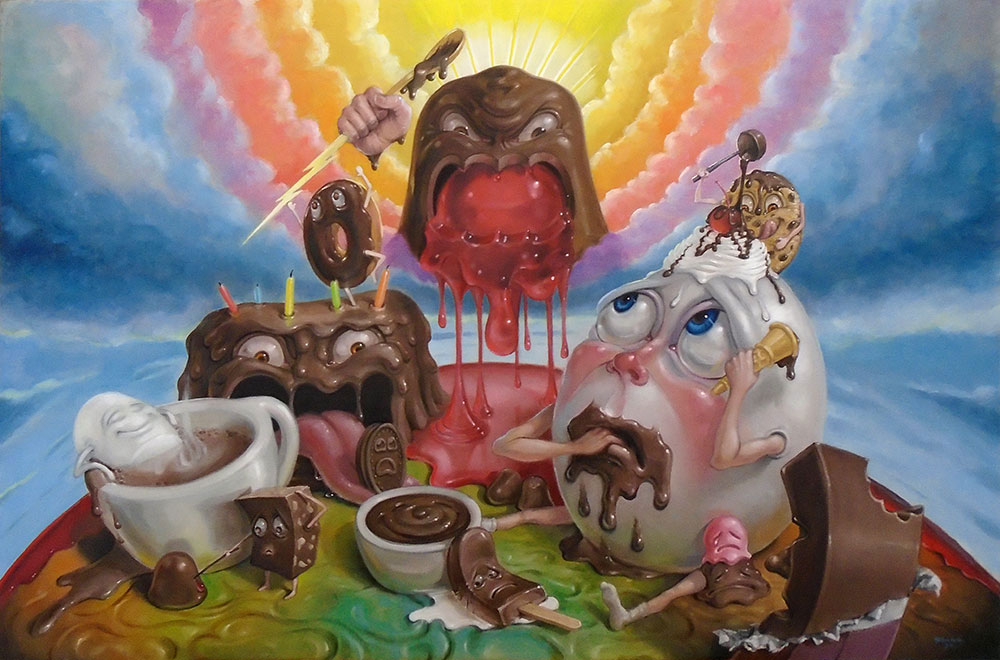 Vengeful Wrath of the Chocolate Gods — Stephen Gibb, 36″ x 24″, oil on panel, Canadian Pop Surrealism, 2020 [/caption]
Just what is Canadian pop surrealism?
Canadian pop surrealism may be a marginal category in the world of Canadian at, but it still has a strong presence in the country. Many different styles and approaches exist in pop surrealism and they continue to make an impact on the art scene globally.
Lowbrow art, or pop surrealism, is a visual art movement that arose in Los Angeles, California, area in the late 1970s. Its cultural roots are inspired by in underground comic, punk music, tiki culture, and hot-rod cultures of the street. The terms lowbrow and pop surrealism are used interchangeably. Lowbrow is often humorous, sarcastic, or ironic.
Most lowbrow artworks are paintings, but there are also toys, digital art, sculpture, and collage.
Find contemporary pop-surrealist and lowbrow artists working today."
---

Back to Gallery
Froze—by Canadian painter Stephen Gibb, 36″ x 36″, oil on panel, 2020 FROZE by Canadian painter Stephen Gibb The balance between survival and our relation with the environment is a give and take negotiation at its simplest state. Depletion, plunder and by-products that result from our "processing" of resources are ways in which we impact […]
Also posted in Canadian art, Canadian Artist, Canadian painter, Canadian painter Stephen Gibb, Canadian Surrealism, Canadian Surrealist, contemporary art, Pop Surrealism Lowbrow, Stephen Gibb, stephen gibb artist, surreal, surreal artist, Surreal moon, surreal painter, Surrealism, surrealism famous, surrealism painting
|
Tagged canadian painter, Canadian painter Stephen Gibb
|
Comments closed
Surrealism Famous For Stimulating Creativity Creativity sometimes just comes to you and you can only surmise in hindsight as to the possible origins. Where does a cherry-chocolate god figure come from? It's funny, bizarre, and unexpected but may be more logical than you think. The vengeful god in the clouds is nothing new and most […]
Also posted in Canadian art, Canadian Artist, Canadian painter, Canadian Surrealism, Canadian Surrealist, contemporary art, contemporary artist, lowbrow pop surrealism, Pop Surrealism Lowbrow, Stephen Gibb, stephen gibb artist, surreal art, surreal artist, Surrealism, surrealism famous, surrealism painting
|
Tagged canadian art, canadian artist, canadian painter, canadian pop surrealism, canadian surrealism, famous surrealism, stephen gibb, surrealism
|
Comments closed
Surrealism has many faces with Canadian artist Stephen Gibb "Happy!" — Stephen Gibb, 36″ x 24″, oil on panel, 2020 The idea behind this painting was to portray sheer joy and happiness sloughing off the evil and darkness of the world like a snake sheds its skin. However, I wanted to depict the happiness in […]
Also posted in Canadian art, Canadian Artist, Canadian painter, Canadian Surrealism, lowbrow pop surrealism, Pop Surrealism Lowbrow, Stephen Gibb, stephen gibb artist, Surrealism, surrealism art, surrealism painting
|
Tagged canadian artist, canadian pop surrealism, canadian surrealism, pop surrealism, stephen gibb, surrealism
|
Comments closed
2020 Paintings 2020 Return to main gallery 2015 paintings Stephen Gibb – Artist Statement My artwork weaves an eclectic tapestry of cultural and social influences. At one moment it may make a single-punch-line commentary on pop culture, while the next it may construct a complex and playful panorama probing into the outer perimeters of human […]
Pop Surrealism and Lowbrow Pop Surrealism has a broad range of influences, a reverence for art history, an unsettling presence and a wicked sense of humour. One thing that unites the pop surrealist community is their comfortable and insatiable relationship with weirdness. If describing in words what is and what isn't pop surrealism, one only […]
Also posted in Canadian art, Canadian Artist, Canadian painter, Canadian Surrealism, contemporary art, contemporary artist, crazy art, lowbrow, lowbrow pop surrealism, Pop Art, Pop Surrealism Lowbrow, Stephen Gibb, stephen gibb artist, surreal, Surrealism, surrealism art, surrealism famous
|
Tagged bubblegum surrealism, canadian pop surrealism, canadian surrealism, pop surrealism, stephen gibb, surrealism
|
Comments closed
Sometimes art isn't pretty....Canadian artist Stephen Gibb reveals the secret behind one of his paintings
Also posted in Canadian art, Canadian Artist, Canadian Artist Stephen Gibb, Canadian painter, Canadian Surrealism, Stephen Gibb, surreal artist, Surrealism
|
Tagged canada, canadian, canadian art, canadian artist, canadian pop art, canadian pop surrealism, canadian surrealism, painter, pop surrealism, pop surrealism canada, stephen gibb, steve gibb, surrealism
|
Comments closed
Humpty Dumpty Humpty Dumpty sat on a wall, Humpty Dumpty had a great fall. All the king's horses and all the king's men Couldn't put Humpty together again…* My obsession with Humpty Dumpty is both visual philosophical in nature. I am drawn to the famous egg visually, through his numerous portrayals in children's books. His […]
Also posted in Canadian Artist, Canadian Surrealism, Canadian Surrealist, Humpty Dumpty, lowbrow pop surrealism, Pop Surrealism Lowbrow, Stephen Gibb, stephen gibb artist, Surrealism
|
Tagged art, artist, bubblegum surrealism, canada, canadian, canadian artist, canadian pop surrealism, canadian surrealism, humpty dumpty, stephen gibb, steve gibb, surreal reese cup, surrealism
|
Comments closed
Canadian Surrealism is alive! Waiting For The Death Blow A painting also known as The Porpoise Waves Goodbye The painting is an allegorical blend of sources, specifically songs by The Cure and The Monkees as well as nursery rhyme and psychological references. Artist: Stephen Gibb, oil on panel, 2015 Canadian Surrealism is confronted head-on by […]
Also posted in Canadian Artist, Canadian painter Stephen Gibb, Canadian Surrealism, Canadian Surrealist, Pop Surrealism Lowbrow, Stephen Gibb, Surrealism
|
Tagged bubblegum surrealism, canadian, canadian art, canadian artist, canadian pop surrealism, canadian surrealism, painter, pop surrealism, stephen gibb, steve gibb, surrealism
|
Comments closed
For those who dare venture beyond the safety and comfort of stephengibb.com… some of my fave links, inspirations…and others who have paid me off Links and inspirations Redbubble – Prints, Phone Cases, T-Shirts etc. Bubblegum Surrealism Stephen Gibb facebook page Stephen Gibb — Instagram St. Germain Gallery, Toronto — Artwork available Saatchi — Prints available […]
Canadian Pop Surrealism Return to main gallery Stephen Gibb Artist Statement (Or, at least a feeble attempt to excuse my behaviour to those present with good taste) My artwork weaves an eclectic tapestry of cultural and social influences. At one moment it may make a single-punch-line comment on pop culture while the next it may […]
Also posted in Canadian Pop Surrealism Art, Canadian Surrealism, Humpty Dumpty, lowbrow pop surrealism, pop surrealism art, Pop Surrealism Lowbrow, Stephen Gibb
|
Tagged art, bubblegum surrealism, canada, canadian, canadian pop surrealism, donut, dopamine, dorito, hieronymus bosch, humpty dumpty, If I blow your mind what will you do for me?, peanut butter, peanut butter cup, pop surrealism, salvador dali, stephen gibb, stephen gibb art, stephengibb.com, steve gibb, surrealism
|
Comments closed